As excitement for Stormgate continues to build ahead of the June 11 gameplay reveal, many RTS community members are already making plans for the game. 
One of these is Team Phantom Aces, a new Warcraft 3 organization looking to make an early splash in Stormgate with a veteran WC3 roster. 
Warcraft 3's Biggest Names Join Forces in Phantom Aces
Team Phantom Aces was first revealed on June 1, announcing themselves as "the newest esports team set to dominate in WC3 and Stormgate." This makes the team one of the first to officially announce their intent to compete in Stormgate, and with a very exciting roster at that! 
The new team is headlined by Warcraft 3 legend Jo "LawLiet" Ju-yeon, who is joined by many veterans, including Matic "Starbuck" Dejak, Jason "KraV" Compagnon, and Bernardo "PaTo" Rodrigues. There is also a second squad in place, known as the 'Pocket Aces' which features up-and-coming players – you can find the full roster of both teams on Liquipedia. 
However, the star power doesn't stop at the players. The organization itself has years of RTS experience under its belt, with management hailing from two of WC3's biggest teams, Raptor Gaming and Playing Ducks. They've also picked up some of the brightest in WC3 as content creators and partners, including Back2Warcraft's Jannes "Neo" Tjarks and Art Of Warcraft. 
Overall it's a team that very much represents the heart and soul of Warcraft 3, all the way from players to management and partners. It'll be very exciting to see how they perform in WC3 and what kind of impact they have on Stormgate.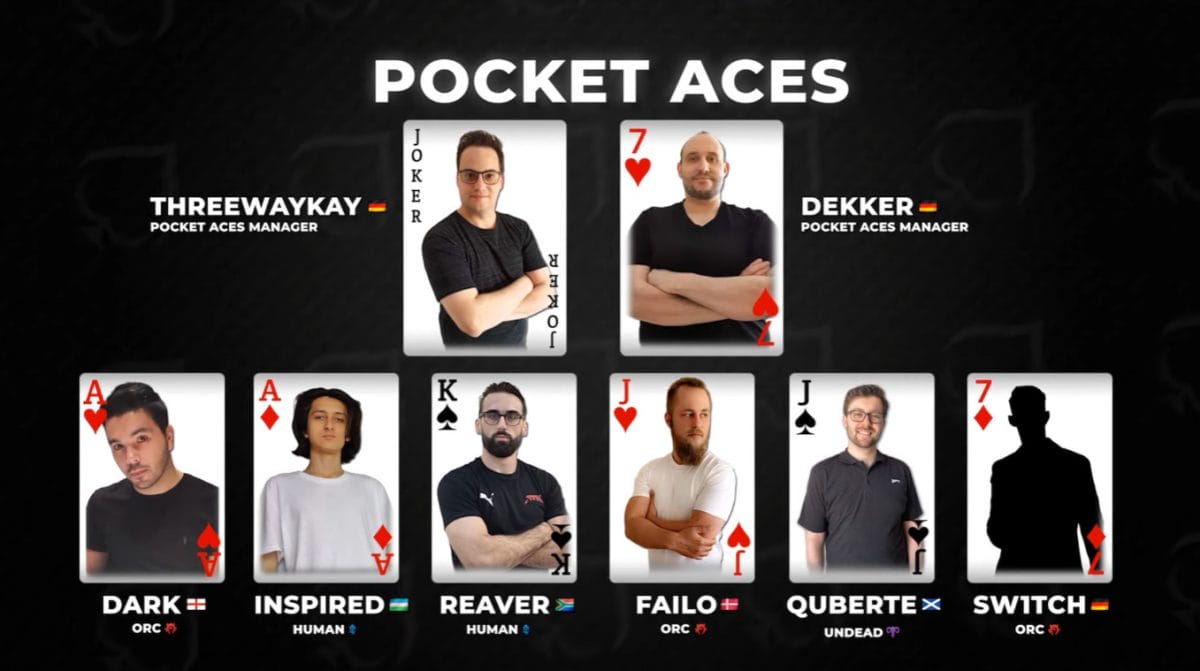 "Stormgate will be the new top dog in RTS" – A Brief Chat With Phantom Aces' Founders
The founders of Team Phantom Aces were kind enough to answer a few questions regarding the organization, its players, and their plans for Stormgate. You can find the full interview below. 
You have some big names and a pretty global roster. How did it all come together?
"We have all been active in the scene for several years. Warcraft 3 is over 20 years old now and some of us kind of grew up together, [while] others gradually joined them. If you share the same hobby in a comparatively small community, then you are bound to cross paths at some point. 
With us, it was so that we mostly grew together from two previously existing clans. Both teams had liked each other for a long time because they had similar orientations and goals.
Last year there was one of the largest Warcraft 3 offline tournaments with Raraland in Hamburg, which was organized by Back2Warcraft. Many of us met there for the first time in real life [and] this resulted in an even closer bond, so that some of us flew across Europe to simply spend a weekend gambling together. 
In the context of all this, the idea of ​​creating a joint team came up. Our CCO Dark then gradually began to put the pieces of the puzzle together and form a team."
Is there a larger organization or other funding behind the team? Or is it more of a passion project?
"Both! This is a passion project – but aspirations for the medium/long term are very high.  
We have people focused on the commercial aspects, the esports aspects, and are putting a lot of thought into some community aspects that will take this organization beyond just top-level esport, to reach and impact a wider audience that will come to Stormgate – [one] new to RTS."
What are your plans for Warcraft 3 and eventually Stormgate?
"Our plan for Warcraft 3 is to bring the game that accompanies us for most of our lives to a happy conclusion together. We want to give back to the community a little of what we love the most – Clan War games.
That's why we founded our own cup in WC3, which will start in July, but for which teams can already register. 
Let's not beat around the bush, [though], a team with such a line-up naturally wants to catch up with one or the other success in terms of play. In the long run, however, we are aware that Warcraft 3 is nearing its life expectancy and has been an example of a near-perfect RTS game. but Stormgate will be the new top dog in real-time strategy."
You announced your intention to get into Stormgate very early. Do you have any goals for the game in mind already?
"Since the announcement [of Stormgate] we've all been excited about the game and the plan is to keep up with our team in the upper ranks right from the start.
We provide years of expertise in Warcraft and Starcraft, and with a new game, it can be incredibly helpful to be able to discover this together. We motivate each other and show each other strategies and build orders, teammates help each other and share knowledge. I think that this gives us an optimal basis for making rapid progress. [When] everything fits together and we can all benefit from each other, especially at the start of a game, it helps extremely if you are not on your own.
That's why our plan is to switch to Stormgate as early as possible and use the advantage we have built up with this team. No one knows if we will become a dominant team in Stormgate and it will certainly be anything but easy, but I think we have a solid chance of being up there."
How are you and the players feeling about Stormgate? Have you been in contact with Frost Giant?
"Yes, there is contact with Frost Giant. I can say that everything we have experienced so far sounds very good to us. The entire concept is very well thought out and suitable for esports – we can't wait to get started.
It feels a bit like being a child when you could already see the presents under the Christmas tree but weren't allowed to unwrap them yet."
Is there anything else you want to add?
"Many thanks to everyone out there who has remained true to the RTS scene even if other genres are more in vogue at the moment. Many thanks to everyone who provides RTS content, whether podcast, league, tournaments, streams, or just as a spectator.
I think good times will come for all RTS fans thanks to the passionate community [and] we are extremely excited for Stormgate.
#AcesUP"
That's it from Phantom Aces. It's incredibly exciting to see a team wanting to commit to Stormgate already and we wish them all the best going forward! Make sure to check out their socials (TeamPhantomAces on most platforms) and you can also join their Discord to chat with team members and other fans.