Hype around Stormgate continues to build, with Frost Giant recently announcing that closed testing is set to begin in July 2023. The announcement has led to more people setting their eyes on the game, resulting in Stormgate entering the top 100 of most wishlisted games on Steam! 
Stormgate Breaks Into Top 100 of Steam Wishlists
On May 25, Stormgate broke into the top 100 in terms of Steam wishlists. The wishlist is a way for players to highlight games that they're interested in and keep them in an easy-to-access list. 
This makes Stormgate one of the most anticipated games on the platform and is definitely a positive sign when it comes to potential popularity – a lot of people are keeping their eyes on Stormagate! 
Considering that gameplay footage is yet to be released (alongside the beta and any other potential early access) this spells good news for the game. With more details being released, more Steam users are likely to interact with the Stormgate page, meaning it is very likely to continue to climb up the wishlist ranking as time goes on. It'll be interesting to see how far Stormgate can make it as we get more details about the game.
What Does The Wishlist Mean For Stormgate?
It's, of course, great for the game to be popular in terms of wishlists on Steam – but what exactly does this mean for Stormgate? 
The most important thing about wishlisting is that it's a metric used by Steam when analyzing a game. It has a direct impact on how and where the game appears on Steam. The more wishlists that it has, the more likely it is to be promoted in featured areas, or recommended to users as a popular title near or at launch. It also helps games appear in relevant categories, in this case, things like RTS. 
This makes it very important for developers. Essentially, more wishlists mean more people are likely to see the game somewhere on Steam, which in turn could attract more players. And the more players, the better. 
It's also a great way to update users who are interested in the game, but aren't keenly following it. Users who have a game on their wishlist can receive updates when major things happen (e.g. a game launch) which, again, is a way to get people to play the game. 
The wishlist can also have external impacts. For example, a dev could reveal that they have X number of users wishlisting their game, which could help entice investors, or help build a buzz around the game (if it's shaping up to be popular).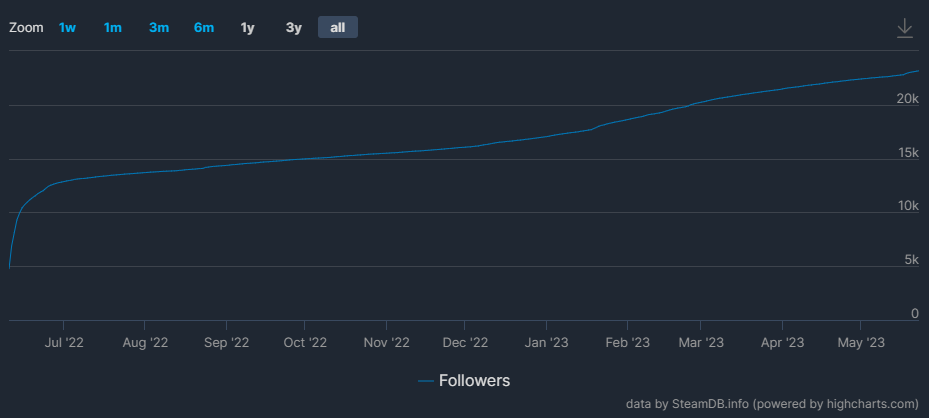 How Many People Have Stormgate on Their Wishlist?
Now that we know that Stormgate is one of the most wishlisted games on Steam, it's time to get into the details. Unfortunately, the number of wishlists for a game isn't public. We know the rank, but we don't know exactly how many people have the game on their wishlist. With that being said, we can estimate based on previously released data.
On average, the number of wishlists for an unreleased game are 9.64x the number of followers (although this can range from 5x to 14x). In Stormgate's case, with 23,158 followers as of writing, we can estimate the number of wishlists to be 223,243 (although this is a guess at best, so take the number with a grain of salt). That's a lot of interested gamers! As previously mentioned, games tend to get more and more wishlists closer to release, so, essentially, it's shaping up to be a pretty popular game.
With all that said, if you haven't already, make sure to wishlist the game on Steam. It definitely helps and, who knows, maybe Stormgate can even reach the top 10.